Past Release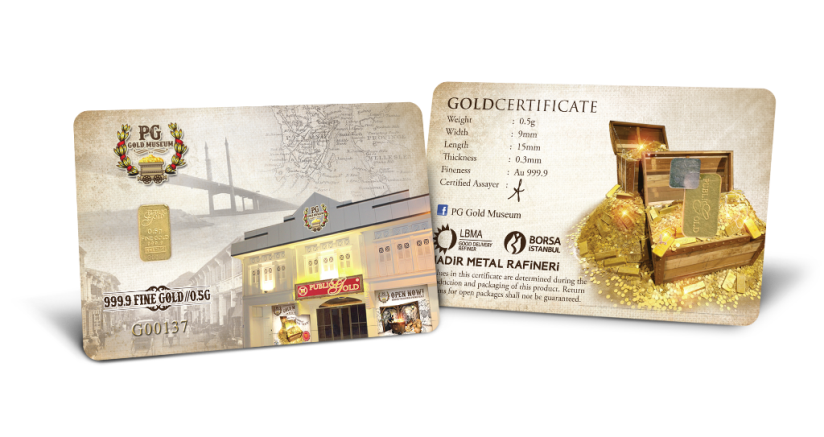 Public Gold LBMA Bullion Bar 0.5g (Au 999.9) - Museum
Launch date
: 2015
Limited mintage
: 15,000pcs
Serial number
: G00001- G15000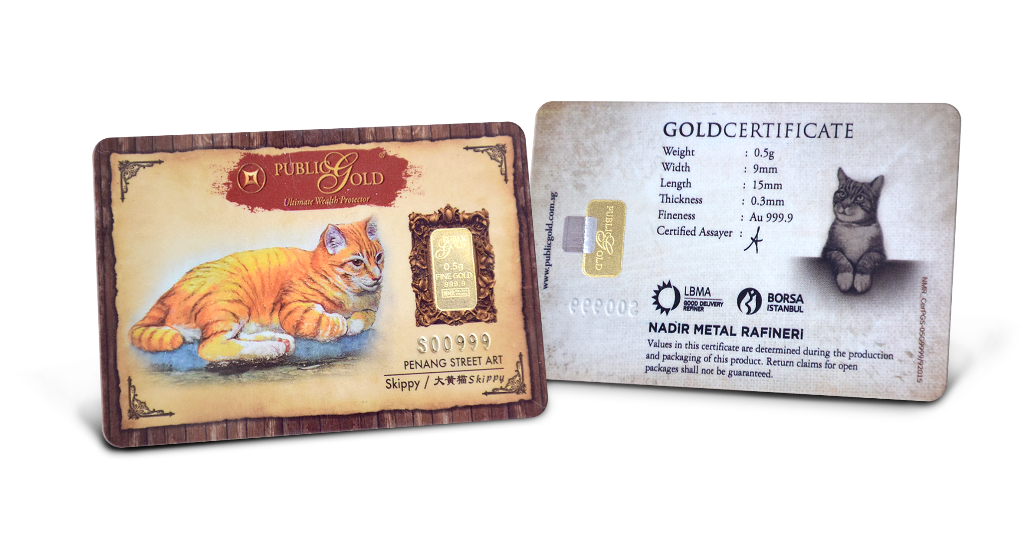 Public Gold LBMA Bullion Bar 0.5g (Au 999.9) - Cat
Launch date
: 2015
Limited mintage
: 15,000pcs
Serial number
: S00001- S15000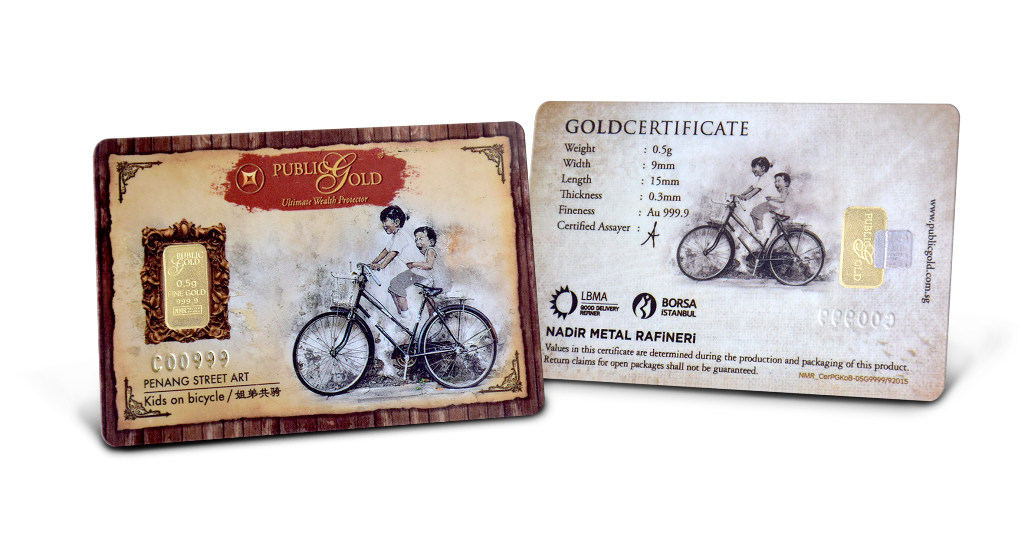 Public Gold LBMA Bullion Bar 0.5g (Au 999.9) - Bicycle
Launch date
: 2015
Limited mintage
: 10,000pcs
Serial number
: C00001- C10000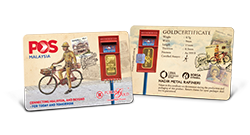 Public Gold LBMA Bullion Bar 0.5g (Au 999.9) – Pos
Launch date
: 2016
Limited mintage
: 15,000pcs
Serial number
: P00001-P15000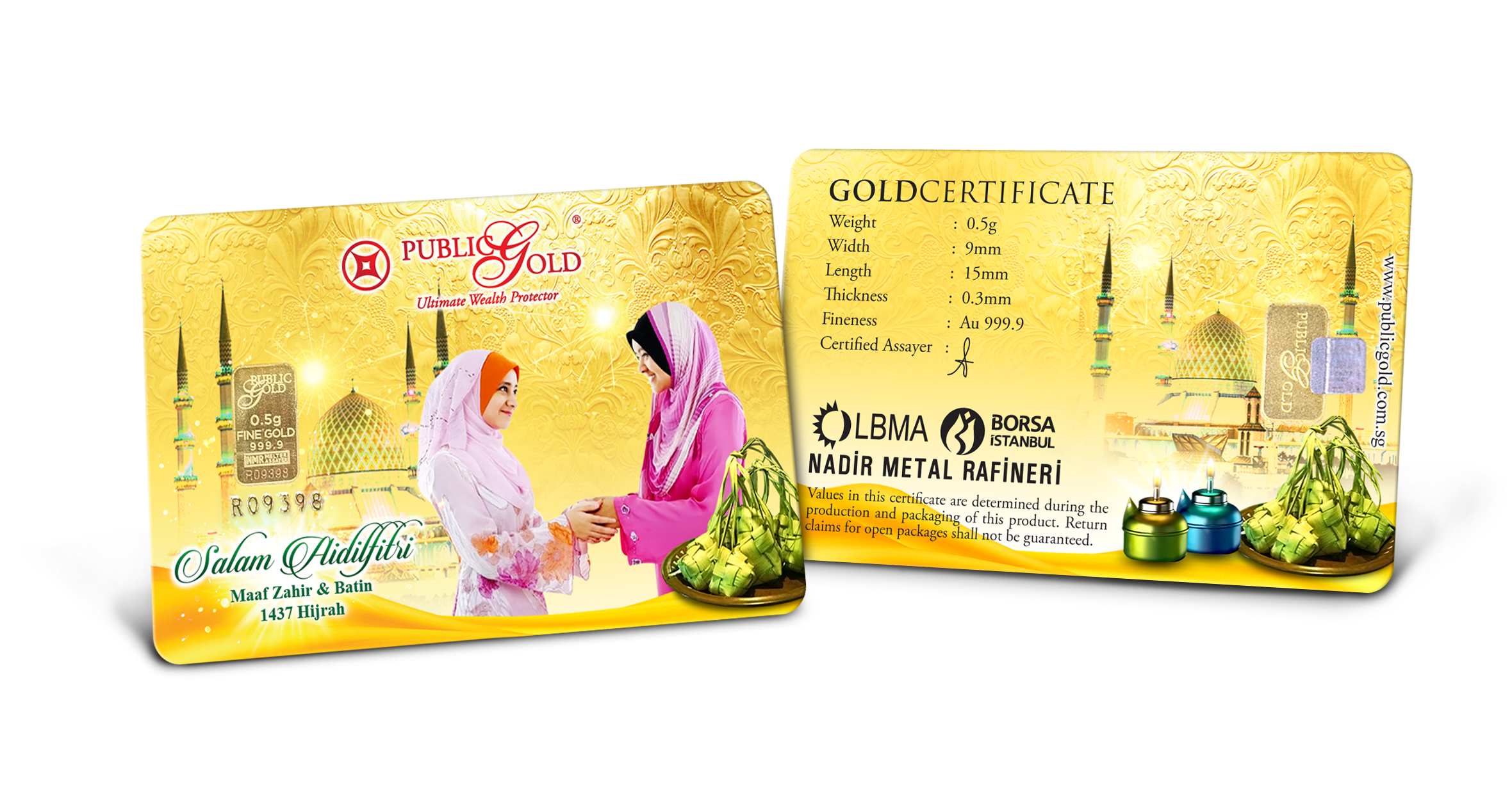 Public Gold LBMA Bullion Bar 0.5g (Au 999.9) - Raya
Launch date
: 2016
Limited mintage
: 20,000pcs
Serial number
: R00001- R20000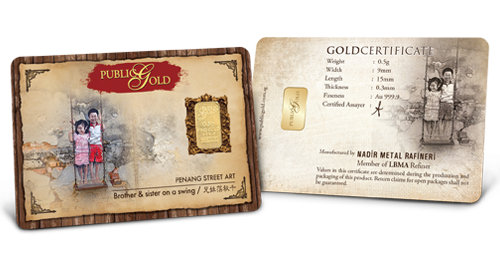 Public Gold LBMA Bullion Bar 0.5g (Au 999.9) - Swing
Launch date
: 2017
Limited mintage
: 10,000pcs
Serial number
: T00001-T10000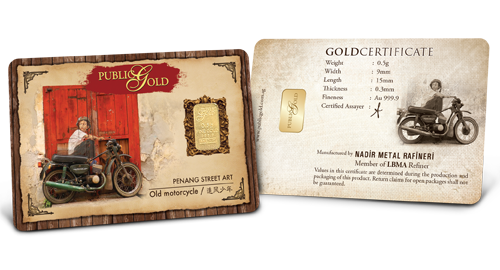 Public Gold LBMA Bullion Bar 0.5g (Au 999.9) - Motorcycle
Launch date
: 2017
Limited mintage
: 10,000pcs
Serial number
: M00001-M10000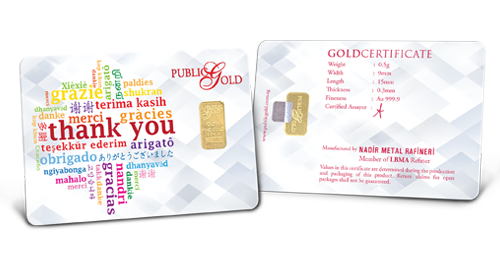 Public Gold LBMA Bullion Bar 0.5g (Au 999.9) - Thank You
Launch date
: 2017
Limited mintage
: 10,000pcs
Serial number
: Y00001-Y10000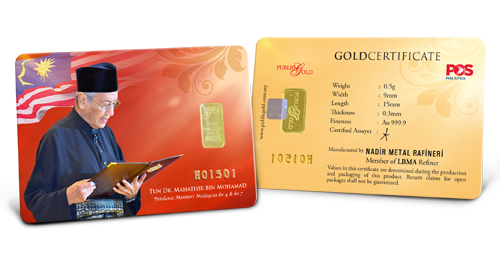 Public Gold LBMA Bullion Bar 0.5g (Au 999.9) – Pos - PM VII
Launch date
: 2018
Limited mintage
: 15,000pcs
Serial number
: H00001-H15000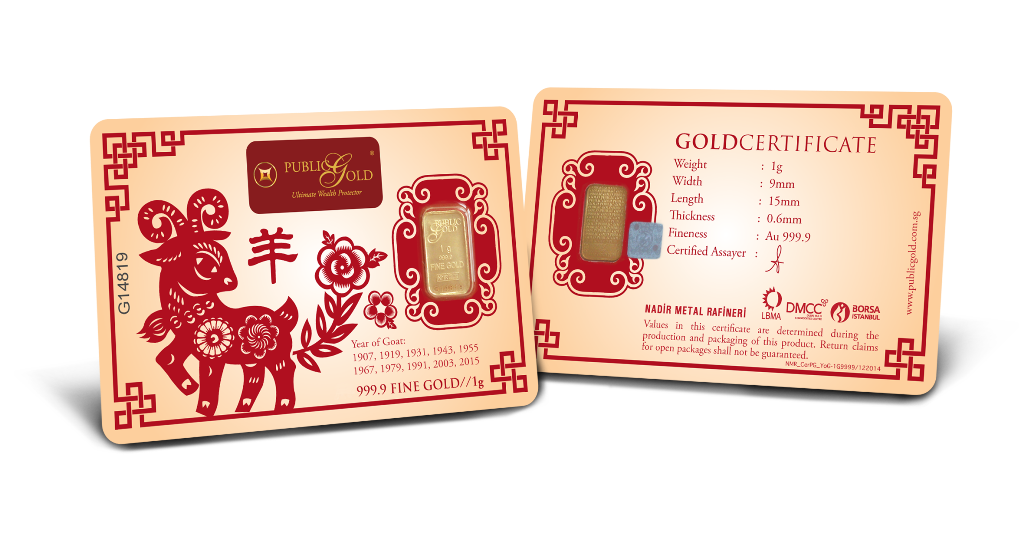 Public Gold LBMA Bullion Bar 1g (Au 999.9) - Goat
Launch date
: 2014
Limited mintage
: 20,000pcs
Serial number
: Mixed number*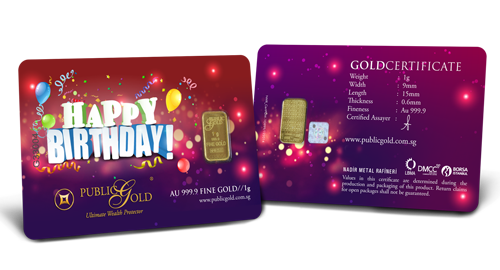 Public Gold LBMA Bullion Bar 1g (Au 999.9) - Birthday
Launch date
: 2015
Limited mintage
: 15,000pcs
Serial number
: Mixed number*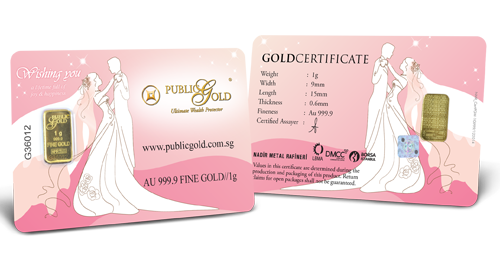 Public Gold LBMA Bullion Bar 1g (Au 999.9) - Wedding
Launch date
: 2015
Limited mintage
: 20,000pcs
Serial number
: Mixed number*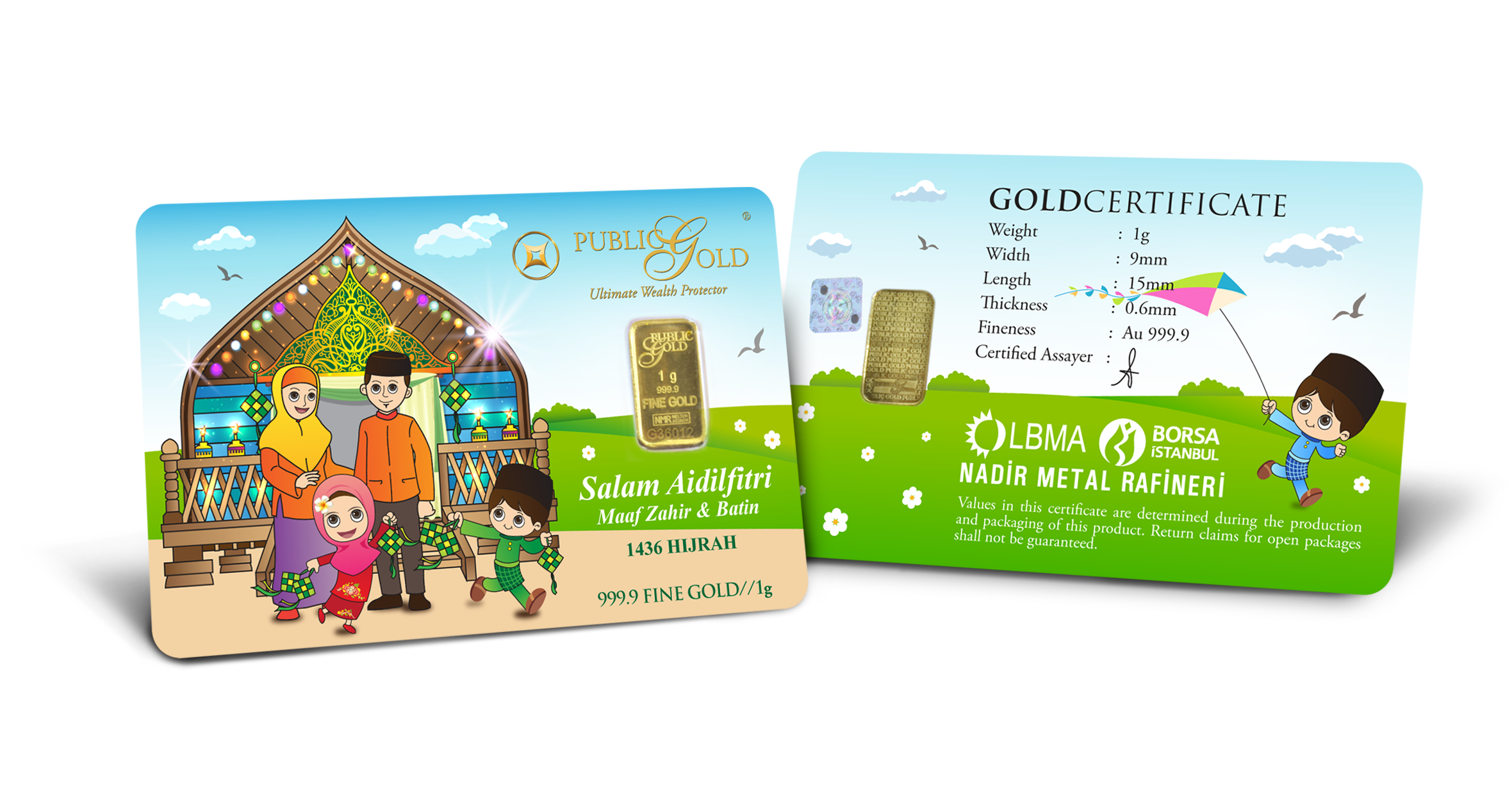 Public Gold LBMA Bullion Bar 1g (Au 999.9) - Raya
Launch date
: 2015
Limited mintage
: 15,000pcs
Serial number
: Mixed number*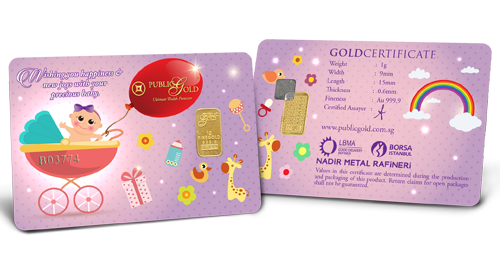 Public Gold LBMA Bullion Bar 1g (Au 999.9) - Baby
Launch date
: 2015
Limited mintage
: 15,000pcs
Serial number
: Mixed number*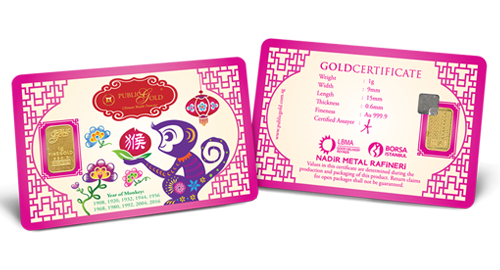 Public Gold LBMA Bullion Bar 1g (Au 999.9) - Monkey
Launch date
: 2015
Limited mintage
: 15,000pcs
Serial number
: M00001- M15000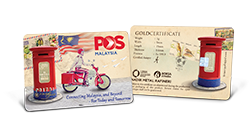 Public Gold LBMA Bullion Bar 1g (Au 999.9) - Pos
Launch date
: 2015
Limited mintage
: 20,000pcs
Serial number
: P00001-P20000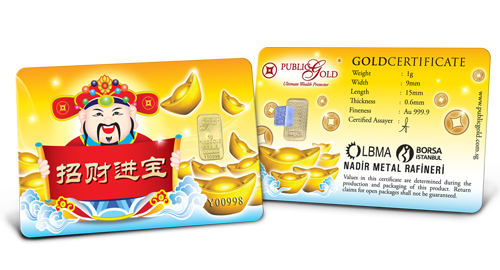 Public Gold LBMA Bullion Bar 1g (Au 999.9) - Prosperity
Launch date
: 2015
Limited mintage
: 10,000pcs
Serial number
: Y00001-Y10000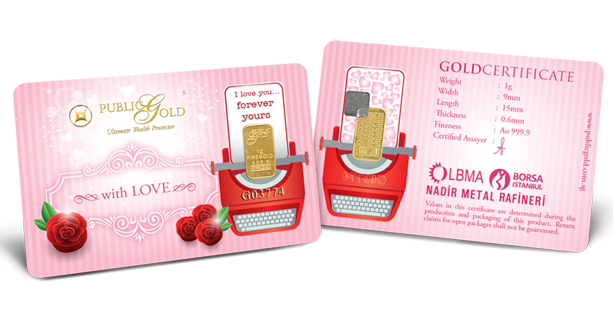 Public Gold LBMA Bullion Bar 1g (Au 999.9) - Love
Launch date
: 2015
Limited mintage
: 10,000pcs
Serial number
: Mixed number*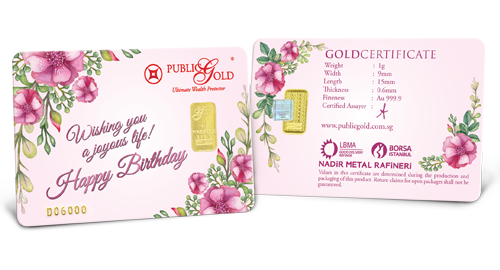 Public Gold LBMA Bullion Bar 1g (Au 999.9) - Birthday
Launch date
: 2016
Limited mintage
: 20,000pcs
Serial number
: Mixed number*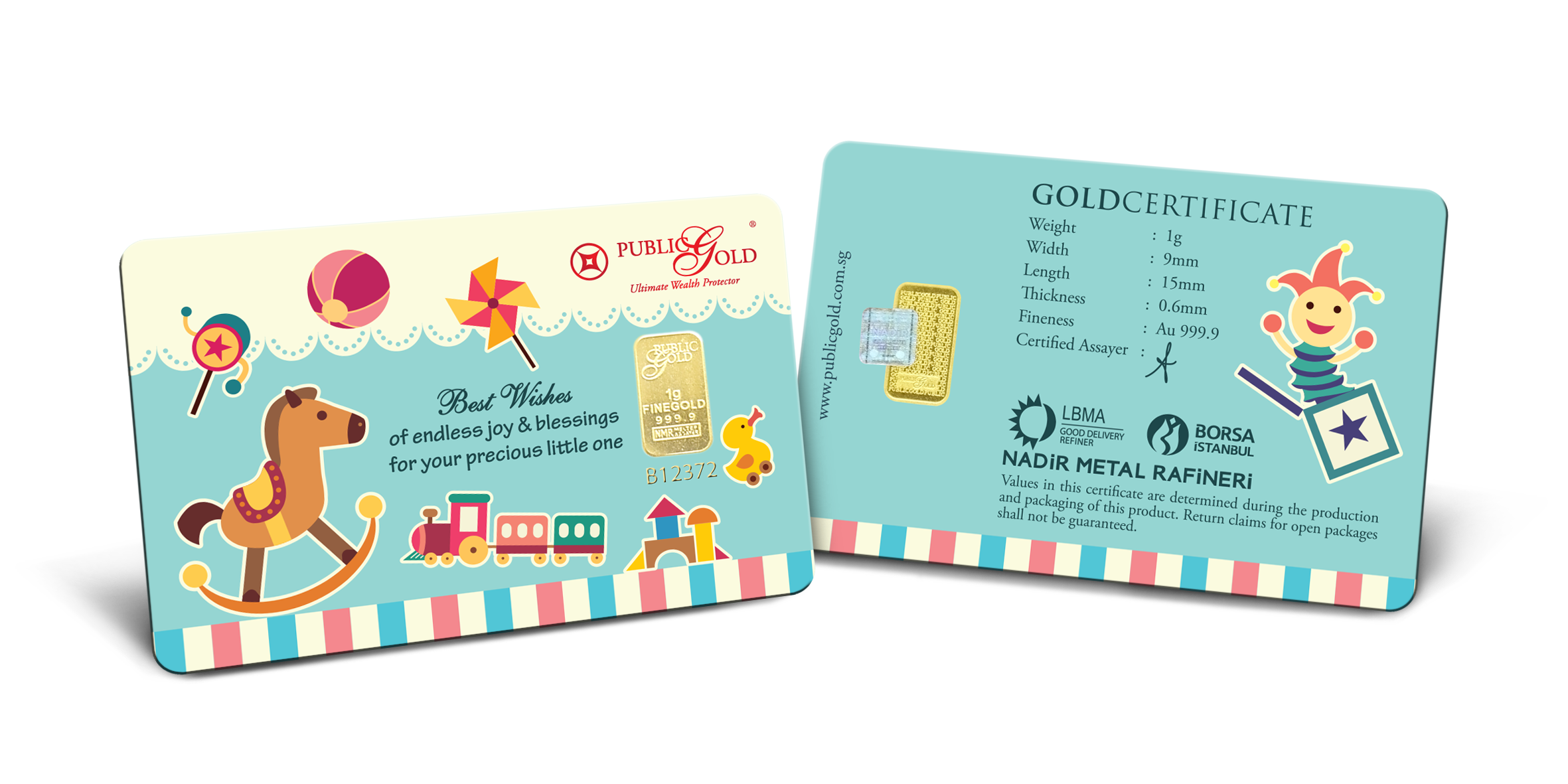 Public Gold LBMA Bullion Bar 1g (Au 999.9) - Baby
Launch date
: 2016
Limited mintage
: 15,000pcs
Serial number
: Mixed number*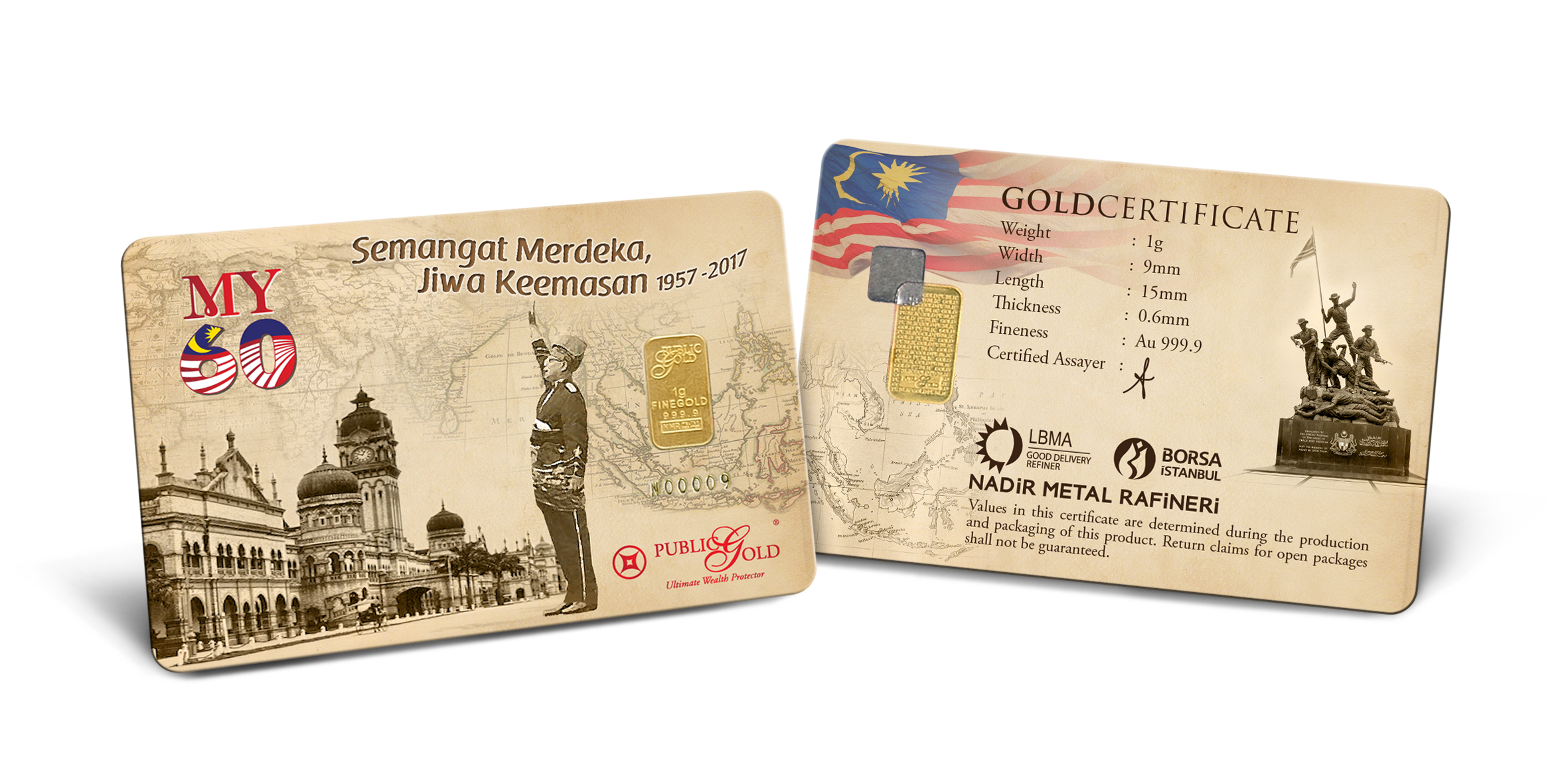 Public Gold LBMA Bullion Bar 1g (Au 999.9) - MY60
Launch date
: 2016
Limited mintage
: 25,000pcs
Serial number
: N00001- N25000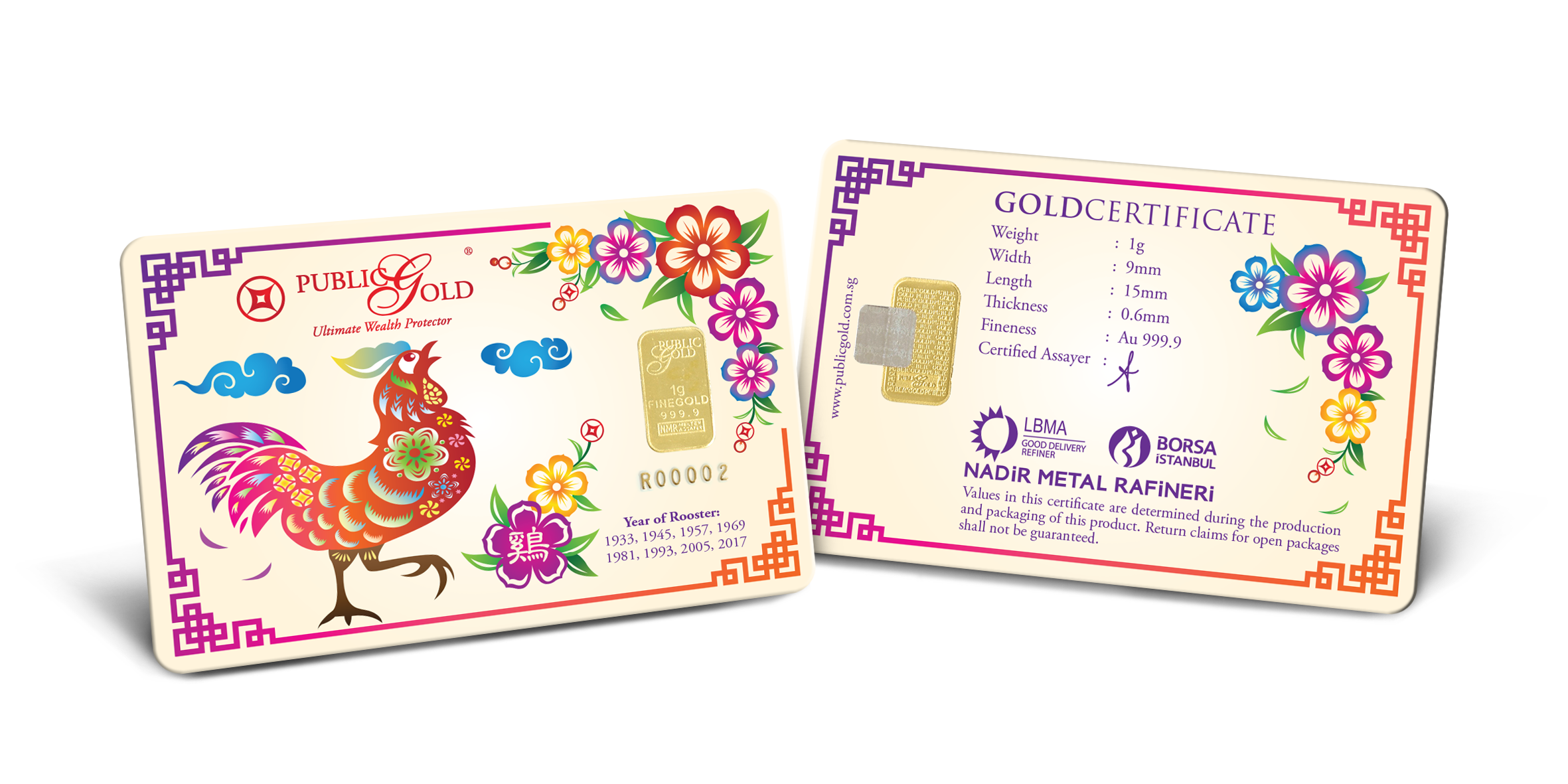 Public Gold LBMA Bullion Bar 1g (Au 999.9) - Rooster
Launch date
: 2016
Limited mintage
: 25,000pcs
Serial number
: R00001- R25000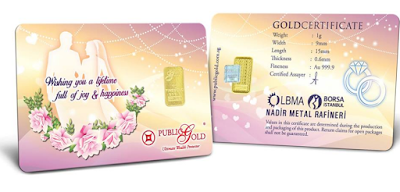 Public Gold LBMA Bullion Bar 1g (Au 999.9) - Wedding
Launch date
: 2016
Limited mintage
: 25,000pcs
Serial number
: Mixed number*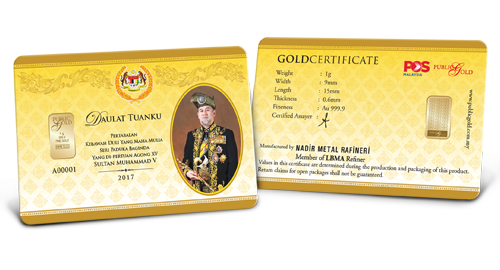 Public Gold LBMA Bullion Bar 1g (Au 999.9) - Pos - YDPA XV
Launch date
: 2017
Limited mintage
: 15,000pcs
Serial number
: V00001-V15000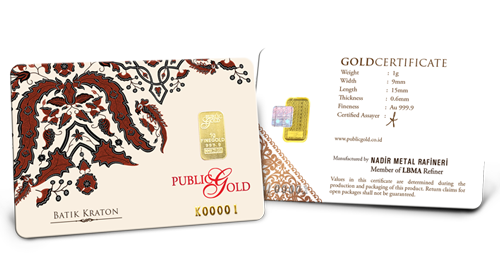 Public Gold LBMA Bullion Bar 1g (Au 999.9) - Batik Kraton
Launch date
: 2017
Limited mintage
: 10,000pcs
Serial number
: K00001-K10000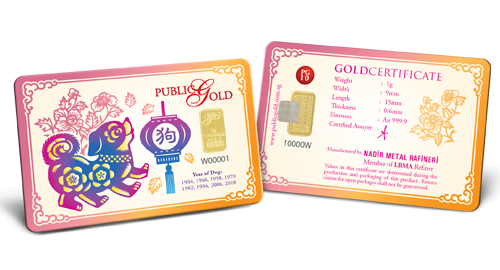 Public Gold LBMA Bullion Bar 1g (Au 999.9) - Puppy
Launch date
: 2017
Limited mintage
: 10,000pcs
Serial number
: L00001- L10000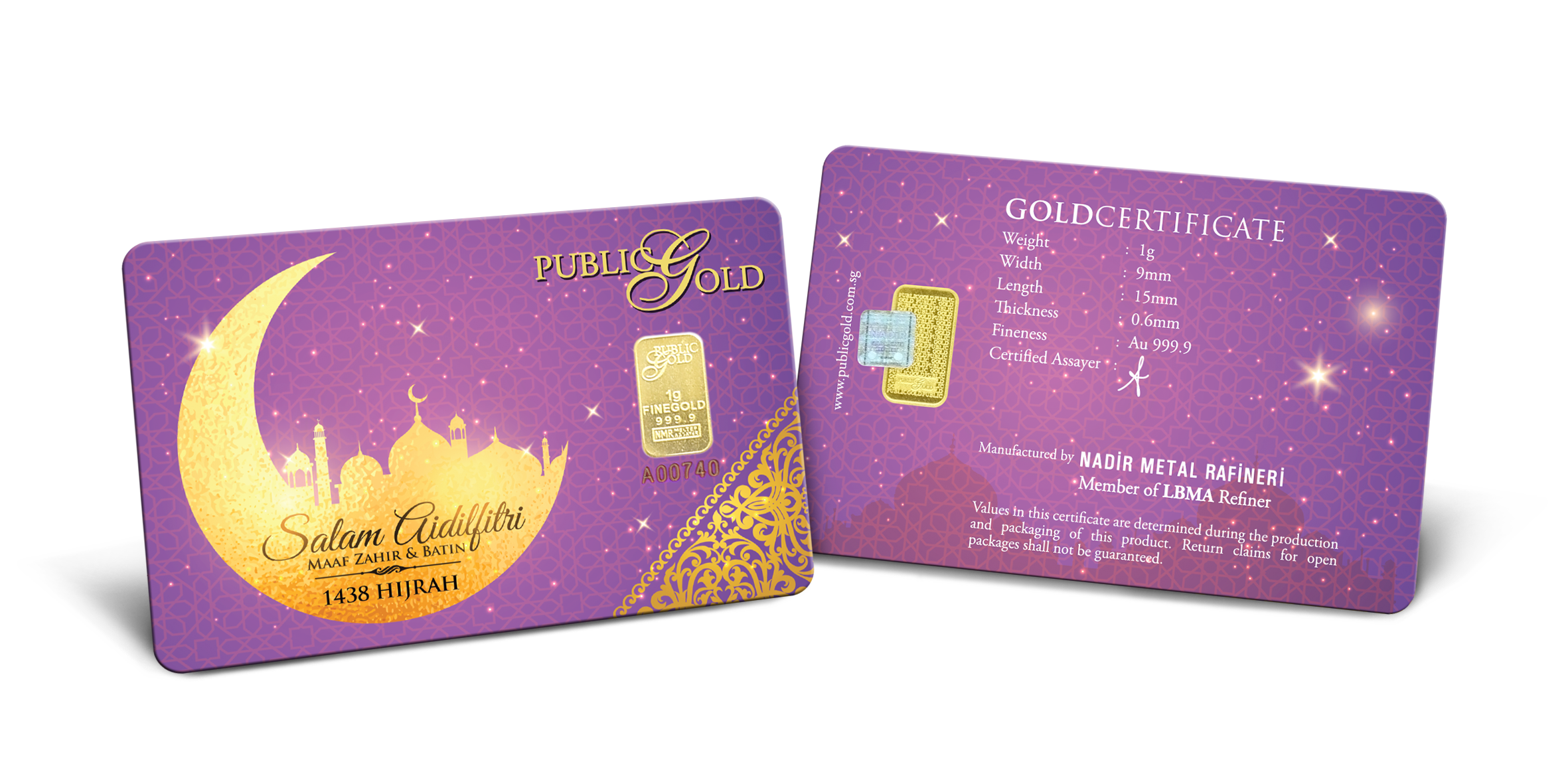 Public Gold LBMA Bullion Bar 1g (Au 999.9) - Raya
Launch date
: 2017
Limited mintage
: 20,000pcs
Serial number
: Mixed number*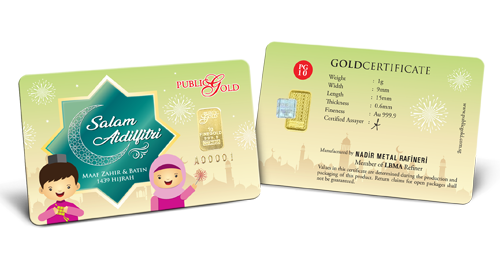 Public Gold LBMA Bullion Bar 1g (Au 999.9) - Raya
Launch date
: 2018
Limited mintage
: 10,000pcs
Serial number
: Mixed number*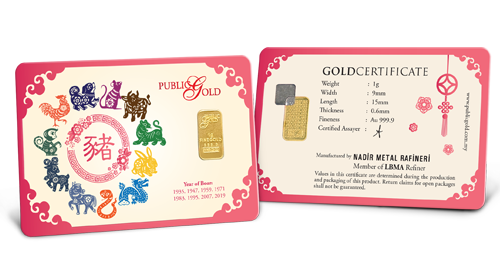 Public Gold LBMA Bullion Bar 1g (Au 999.9) - Last Zodiac
Launch date
: 2018
Limited mintage
: 10,000pcs
Serial number
: L00001-L10000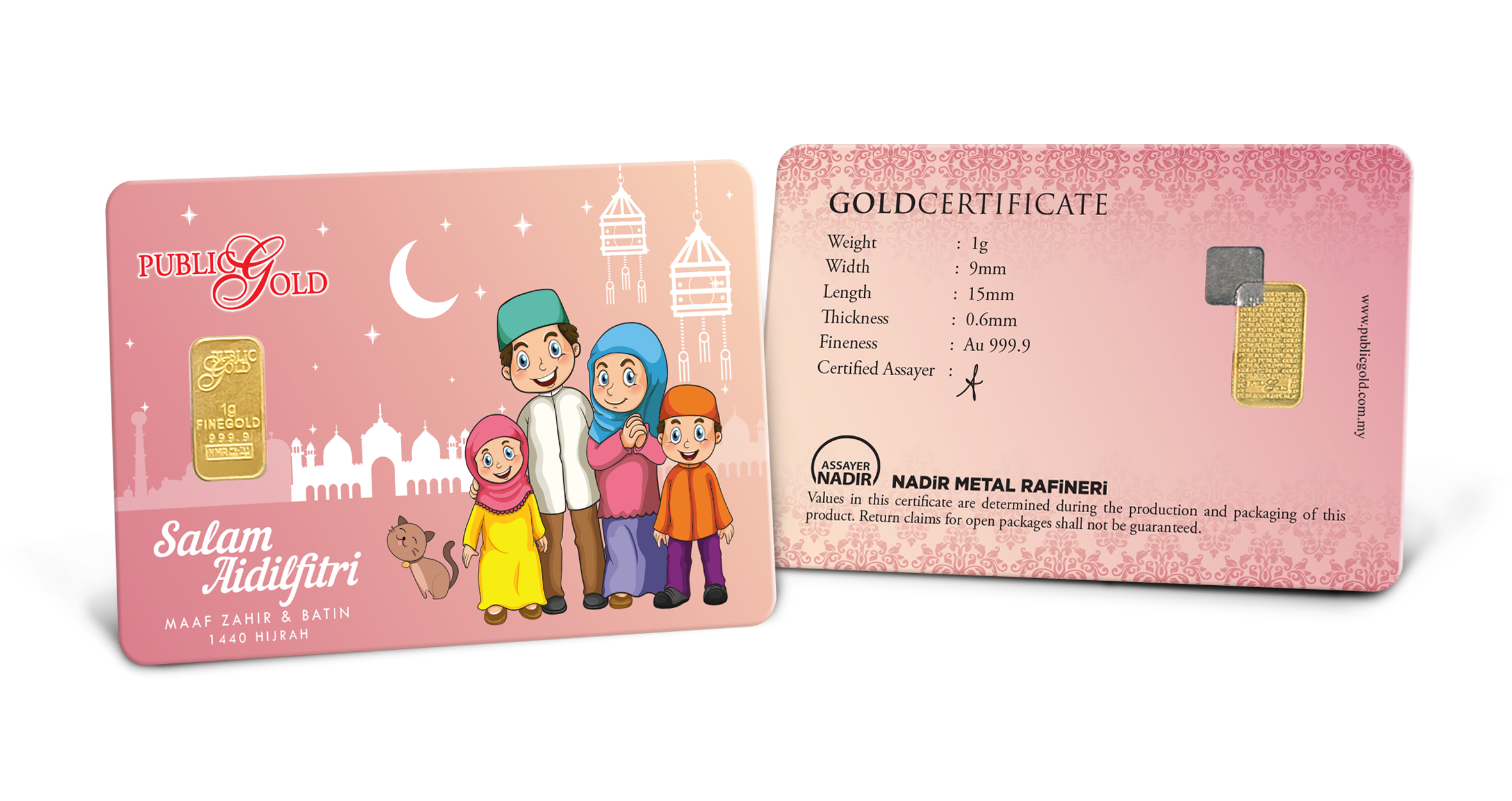 Public Gold LBMA Bullion Bar 1g (Au 999.9) - Raya
Launch date
: 2019
Limited mintage
: 10,000pcs
Serial number
: Mixed number*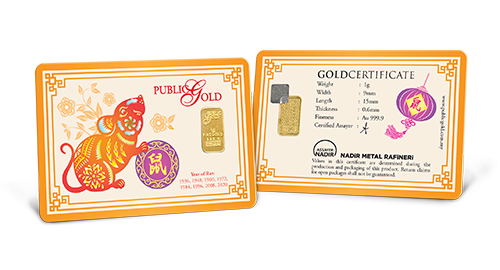 Public Gold LBMA Bullion Bar 1g (Au 999.9) - Rat
Launch date
: 2019
Limited mintage
: 5,000pcs
Serial number
: Z0001-Z5000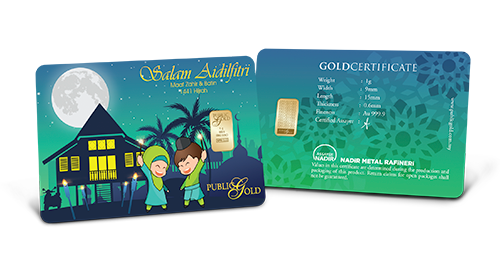 Public Gold LBMA Bullion Bar 1g (Au 999.9) - Raya
Launch date
: 2020
Limited mintage
: 10,000pcs
Serial number
: A00001-A10000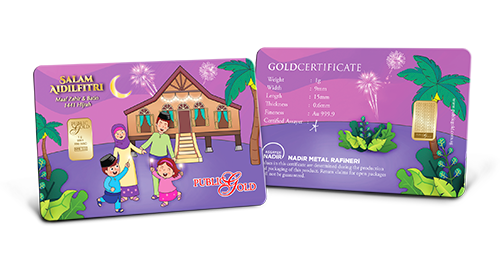 Public Gold LBMA Bullion Bar 1g (Au 999.9) - Raya
Launch date
: 2020
Limited mintage
: 10,000pcs
Serial number
: R00001-R10000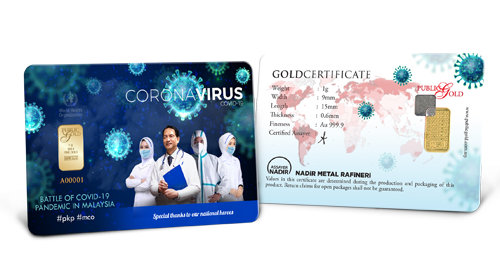 Public Gold LBMA Bullion Bar 1g (Au 999.9) - Covid 19
Launch date
: 2020
Limited mintage
: 20,000pcs
Serial number
: C00001-C20000
* Mixed Number: Previously, products in various designs were identified using a Shared Alphabet concept.

This meant that different 0.5 gram and 1 gram designs had running serial numbers that were prefixed by the same letter.

In other words, these serial numbers did not reflect the true Total Released Quantity of any particular design.

Now, limited mintage will be defined by a prefix unique to a design and numbers that represent its true total released quantity.