30 Mar 2018 - Gold Struggles for Direction as Dollar Inches Down
From : https://www.investing.com/news/commodities-news/gold-struggles-for-direction-as-dollar-inches-down-1370288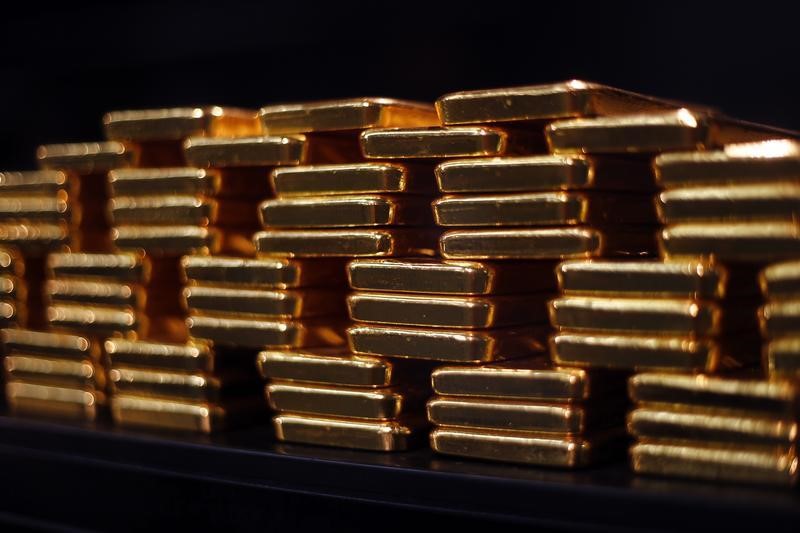 Gold struggled for direction on Thursday, as it struggled to rise from a dampened dollar.
Comex gold futures for April delivery slumped 0.15% to a one-week low of $1,322.20 a troy ounce as of 11:40 AM ET (15:40 GMT).
The price of the precious metal was lower earlier in the day as the dollar strengthened but sediment was dampened after a flurry of economic data. The U.S. dollar index, which measures the greenback's strength against a basket of six major currencies, was up 0.07% to 89.82.
The dollar was little moved by a economic data showing U.S. consumer spending rose only modestly in February and another report showing that jobless claims fell to a 45-year low last week.
The Commerce Department reported that consumer spending rose 0.2% last month, lagging behind income growth, which rose 0.4% last month.
Meanwhile, the Federal Reserve's preferred measure of inflation climbed 1.8% year-over-year, the most in nearly a year.
The U.S. currency was also bolstered after China said on Wednesday that North Korea's leader Kim Jong Un had pledged his commitment to denuclearization while U.S. President Donald Trump tweeted that Kim looked forward to meeting with him.
Investors seek out gold as a store of value during times of geopolitical uncertainty or market turmoil, while a weaker dollar makes the dollar-denominated metal cheaper for holders of other currencies.
Recent worries that protectionist trade policies from the U.S. and China might result in a trade war had boosted gold in recent days, amid fears over the impact on global economic growth.
Elsewhere on the Comex, silver futures were up 0.14% to $16.275 a troy ounce. Among other precious metals, platinum decreased 0.50% to $936.10, while palladium slumped 2.07% to $943.30 an ounce.
Meanwhile, copper futures inched up 0.50% to $3.017 a pound.
https://www.investing.com/news/commodities-news/gold-struggles-for-direction-as-dollar-inches-down-1370288